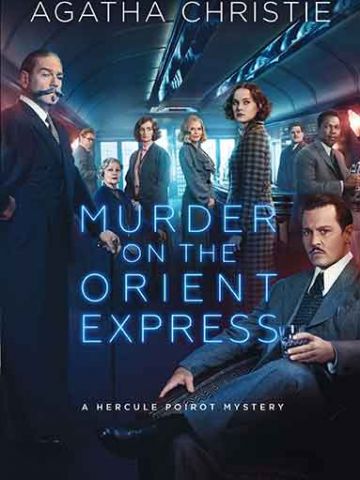 For some books, the sure-fire way to jumpstart or re-ignite sales is with a movie tie-in. But with Agatha Christie's classic whodunnit "Murder on the Orient Express," no help is necessarily needed. According to its paperback publisher, William Morrow, "it's the most widely read detective novel of all time."  In fact, Agatha Christie has sold more than two billion total books—only surpassed by the Bible and Shakespeare.
RELATED: Family Circle Book Reviews & Recommendations
Still, the star-studded movie—starring Kenneth Branagh! Johnny Depp! Judi Dench! Leslie Odom Jr.! (I guess all us "Hamilton" fans would say he's on the train where it happens)—is likely to create a new generation of fans. Watch the trailer below. Even knowing how the crime is committed does not take away from the pleasure of reading her crisp little tale.  
<iframe width="560" height="315" src="https://www.youtube.com/embed/z68frP9Q7XA?rel=0" frameborder="0" allowfullscreen></iframe>
"Murder on the Orient Express" captures a bygone era and the romance of train travel, even with the introduction of a dead body. And though (obviously) there was nothing near to our modern technology—no Snapchatting, Selfies or Internet sleuthing, just Pioret's "little grey cells" working overtime—Christie made sure her plotline left her travelers isolated and cut off from communication. Otherwise moustache-twisting Poiret could not keep gathering his suspects and employing his magnificent deductive reasoning.
While I have not yet seen the movie, I am interested to know whether the book's ending remains intact. (No spoiler alert needed.) Having solved the case, Poiret leaves the next step in the hands of others. He is only interested in the crime, not the punishment. This support of what could be construed as vigilante justice seemed shocking and out of step with the upright, proper world Christie had created. Then again, perhaps not, as that part is not as tidy.  Regardless, it is a world worth escaping to. All that's required is a few hours and a steaming cup of Earl Grey to be transported. Get your friends together soon to read the book before you check out the movie. It opens November 10.
Our Family Circle drink recommendations: Hot Toddy or Earl Grey with milk
RELATED: Book Club Afternoon Tea Recipes
Another Christie Fun Fact
A collection of Agatha Christie's Miss Marple series is supposedly the thickest book ever published. A highlight reel of what it contains, according to The Guinness World Records: "68 crimes; 11 philandering lovers; 22 false accusations; 59 red-herrings and 21 romances. 43 murders are solved: 12 poisonings; 6 strangulations; 2 drownings; 2 stabbings; a burning; one blow to the head; one death by an arrow and 2 people pushed." For the complete list check out the Guinness site.