Isaac, 10; Olivia, 16; Jessie Adams, 35; Alexandra, 12; and dog Max. Bettendorf, Iowa
"Growing up, I was never told that I couldn't do something because I was a girl," says Jessie Adams. "Having that as my truth throughout life has taken me off the beaten path." Before becoming a firefighter, the Quad City native and police officer's daughter was a personal trainer for over 15 years, working with athletes. In 2011 she decided to switch gears. "I had several friends who were firefighters who loved their job and inspired me to give it a shot, but I had to ask myself if I was capable," she says. "I knew I was physically fit, given my background and lifestyle, but I was also aware that the job had other demands." The fact that the profession is male-dominated didn't put her off. She says the challenges of becoming a good firefighter have nothing to do with gender. "It's all about having the proper attitude and being an honest, dedicated, dependable team player. That and a sense of humor will get you far."
There are more than 130 firefighters in Jessie's department, and seven of them are women, including her fire chief. "It's inspiring and sets the tone for career advancement for other female firefighters as well as future candidates," she says. That example and her love for new adventures inspired her to push herself to another level—she competed on American Ninja Warrior in 2015. Although she didn't win, Jessie says she's definitely going back. "I'll be even more prepared next time!" The experience also motivated her as a personal fitness trainer. She often sees clients struggling because they think of working out as a chore or punishment. "I want to teach people to exercise because they care about their bodies," she says. "I'd love to see more women pursue something that challenges and excites them instead of staying in their comfort zone."
Divorced for a year, the mother of three delights in her children. "I want them to know there's nothing they cannot be, do or have in life if they truly want it and are willing to work for it," emphasizes Jessie. "Olivia is my oldest. Thankfully, she's also the wisest—an old soul. Ali is my mini me. She's strong-willed, independent and driven. She's also the reason we have a petting zoo in our house! And Isaac always has everyone laughing."
Jessie finds the nights during 24-hour shifts difficult, but she's grateful for the support of her mother and aunt. "Whether you're a single parent or married, I think the most important thing is making sure you have a very solid relationship with your kids and a safe home environment," she says.
Luckily the firehouse also feels like family, pranksters included. "We're always playing practical jokes at work, like hiding jelly doughnuts in someone's work boots so they'll be walking around the firehouse with jelly-filled shoes."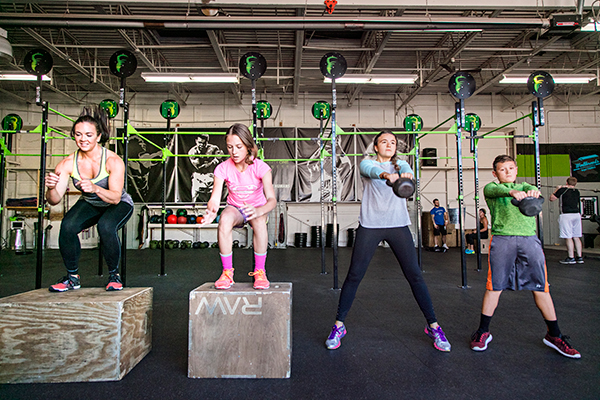 What are the challenges of being a woman in your field?
Much is expected of today's firefighters, and the competition for the job is tough. It's a very challenging field, period. Firefighting definitely isn't for everyone. You can't be afraid of heights or confined spaces, you have to be able to function well in a crisis, you must be physically capable of handling the job duties, and you must be willing and able to embrace elements of danger.
Has being closer to that kind of danger made you a stronger person? If so, how?
We run into burning buildings when others are running out; we risk our lives to save others. Being that close to danger has no doubt made me a stronger person. But it has also taught me to be a more cautious person. Seeing so many life-threatening events has caused me to be more protective of my kids and their safety. Firefighting has taught me an important lesson: An emergency can happen in a second. We are trained for any worst-case scenario.
Are there any perks of your job?
Because our work schedule is 24 on and 48 off, almost everyone has the luxury of having their own side job or trade, such as lawn service, construction, computer graphic design or personal training. I don't think I've ever had to hire a plumber or carpenter since I've been on the department!
Tell us more about your Ninja Warrior experience.
I walked away with not only a lot of new training ideas, but also so many new Ninja Warrior friends. Everyone who competed on the show was so supportive of one another and excited to offer any tips and tricks.
What kinds of physical activities do you do on our own and as a family?
I get up five days a week at 4:30 in the morning and do either a CrossFit workout or functional training along with running a few miles.
Isaac, who's only 10, wakes me up at 5:30 a.m. on the days I'm off, and we run 6 miles together before he even makes it to school. He loves running with me. It's our special time to be together and start our morning off right. I love seeing his drive to constantly grow and better himself. The kids are all into sports. When they're not at practice or don't have a game, we do road races, go to the skate park, go horseback riding or do CrossFit workouts together.
What are you most proud of?
I'm most proud of the way my children are growing up and have blossomed into amazing, talented individuals.
For more on Jessie, visit jessiegadams.com.