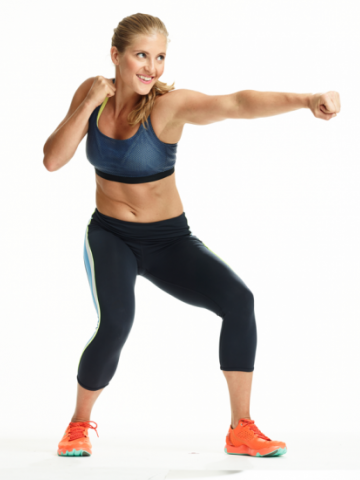 The fierce way to attack a fitness routine: boxing. Thanks to its serious sculpting results and model following—Karlie Kloss and Gigi Hadid have posted ringside photos—the sport has become a studio staple. So much so that punch-centric places, like Title Boxing Club, are rapidly expanding. Torch 10 calories a minute and squash stress with this sequence from Annah Kessler, an instructor at NYC's Shadowbox.
Get in a boxing stance by placing the foot of your non-dominant side behind you and keeping weight in the balls of your feet.
Bring your fists up in front of your face.
Extend your dominant hand straight in front of you for a "jab." Return to the start.
Extend your non-dominant hand in front of you for a "cross" as you pivot your back foot. Return to start.
Exhale on each punch and focus on using your legs, hips and core for power.
Alternate between jabs and crosses for one minute. Then do squats or push-ups for one minute. Repeat five times.
Image Credit: James Farrell