Designer Christiane Lemieux threw out the rulebook when she decorated her family's home on Long Island, New York. "I like casual chic, a place that stands up to kids with sticky fingers and sandy feet," she says. Built in the late 1950s, the former fisherman's cottage was a dark shack when they bought it, says Christiane, founder and creative director of DwellStudio and executive creative director of Wayfair. The couple opened the ceilings to the rafters and installed sliding glass doors to create a loft-like living space with panoramic ocean views. Bare white walls and bamboo floors provide a bright backdrop for a mashup of midcentury modern classics, random pieces collected over the years and Christiane's own designs. She takes an equally laid-back approach to entertaining friends when they drop by. "The house isn't big, so we just move the party outside," she says. "It's no-frills: a simple table, fresh seafood and good friends." 
The sprawl-inviting sectional in a bold retro print- a DwellStudio signature fabric-pairs well with a zigzag flat-weave cotton rug. "I like to mix different styles and play with scale of prints," Christiane says. She found the quirky ceramic mushroom table at a charity tag sale, and the leather Hans chair with ottoman is a DwellStudio original. On the mantel, favorite photos and objects are rotated according to whim.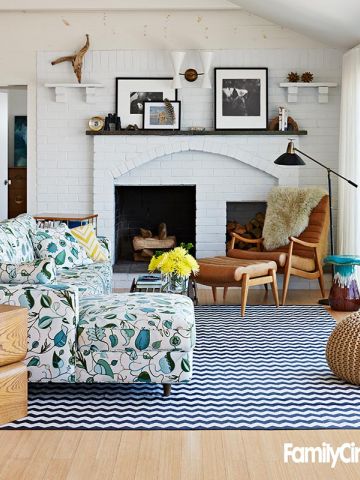 To help define the dining area, Christiane hung a sculptural mobile above a sleek vintage table and chairs. "It adds impact and a fun element," she says. Christiane stores extra dishes in the gold-leaf cabinet.
Outdoors on the deck, Christiane sets the weathered wood table with Scandinavian dishes topped by linen napkins tied with  string. Rocks gathered from the beach and golden votives add instant atmosphere. Her go-to menu: a big platter of lobster, shellfish and corn on the cob.