Illustration by Janne Iivonen
Create a Calendar
A central calendar is a must, whether you prefer physical or digital. "Whatever is best for mom is best for the whole family," says Marissa Hagmeyer, co-owner of the national luxury organizing company Neat Method.
If you prefer physical: Put your calendar in a central spot, like the fridge. "To be truly functional, it has to be where people are," says Amy Tokos, a certified professional organizer and productivity consultant for Freshly Organized in Omaha, NE. Use color coding to distinguish between kid-only and whole-family activities, and have everyone add their own events. When anyone has a scheduling question, direct them to check the calendar. 
If you prefer digital: Create a shared cloud-based calendar. Use the app on your phone, or try Cozi Family Organizer (Android and iOS, free), which will send reminders and show you activities at a glance, color-coded by person. Google Calendar (Android, iOS and web, free) is also great for sharing schedules. Tokos says a shared family calendar can be an especially good tool for divorced parents, since it creates a reliable, conflict-free communication hub. 
Dinner-Table Download
Once a week (Sundays are good), gather the family for a quick talk about the week ahead. Run through after-school activities, which days the kids might miss dinner or need to buy lunch, any school projects that require supplies, and what you have going on work- or travel-wise. "This doesn't have to be formal—I do it and my kids have no idea it's happening—but it's the crux of being prepared for the week," says Tokos. Bonus: Your kids' tendency to procrastinate won't ruin your week. 
Breakfast: Less Is More
"Treat your kids like adults, not guests," says Tokos. Encourage teens to add their preferred cereals and grab-and-go options to the grocery list so they can fend for themselves. But be firm: This doesn't mean a food free-for-all. "Have 2 choices instead of 10. No one needs 15 cereal boxes in the cabinet!" says Hagmeyer. A couple of quick-fix breakfasts that teens (and their harried parents) can make for themselves:
OPTION 1: PB Pancake Sandwich
Heat 2 frozen oatmeal pancakes and spread with crunchy peanut butter. Top with 2 to 3 slices precooked bacon and sandwich together. To make it an Elvis Special, add slices of banana. 
OPTION 2: Quick-Fix Avocado Toast
5-minute version: Spread ½ mashed avocado on a slice of multigrain toast. Top with 1 sliced hard-boiled egg (we like to buy these precooked and peeled) and sprinkle with salt, pepper and hot sauce.
2-minute version: Spread pre-made guacamole on a slice of multigrain toast. Add hot sauce to taste. 
Share Your Grocery List
Encourage your kids to participate in planning for the week ahead. This is an opportunity for teens (not mom!) to be responsible for making sure the pantry is stocked with their favorite protein bars or checking to see if there's milk. Plus, it lets the shopper off the hook for "forgetting" things. "If they don't add it, they can't complain. There's plenty of food—I'm sure they'll survive!" says Tokos.
Look for free grocery apps the family can share—this will save you from those texted requests while you're
on your way out of the supermarket parking lot. We like List Ease and OurGroceries as straight-up shopping apps. They have the best cross-platform features, in case you have an iPhone and your kids have Androids. Plus, they help you keep an inventory of your pantry and send you reminders when items are running low. Another way to go is Google Keep (Android, iOS and web, free). It has family sharing options but isn't grocery-specific, so you can also use it for other shopping, packing and to-do lists. 
Illustration by Janne Iivonen
Cut Paper Clutter
By the time your kids are teens, you're done with daily backpack-checking and form-filling-out, but you still have your own influx of mail to manage.
Pro tip: Don't even let it hit the countertop. "Make a habit of looking through things quickly and making decisions," says Samantha Pregenzer, founder of the organizing company SO Home and the Simply Organized blog. For items you need to hold on to, keep a file bin on your counter with a few broad categories so you can sort things right away. For junk mail, stash a recycling bin right by the door so you can toss it as you walk in.
Charge Smart
Your kids probably have their own devices (or three) and the tangled tumbleweed of cords that comes with them. To get it all under control: 
Pick a spot. Choose an out-of-the-way area or corner on your countertop, tell your kids where to plug in, and let it go. To manage multiple devices, invest in a USB power strip. For as little as $10, you can get a strip with at least one power port and up to four USB ports. To corral the mess, place a tray or shallow bin underneath to act as a landing spot so that everyone knows exactly where to look for their devices. "And if you want to clean up before company comes over, it's easy to put away," says Hagmeyer.
Label the cords. Teens tend to (OK, always) lose charging cords and "borrow" from one another, so have them personalize their equipment. They can write their initials in permanent marker or wrap their cords with washi tape, each kid choosing a signature color or pattern. 
Create a Work Drawer
With teens and parents doing more work in digital form, you don't need as many office supplies, but it makes sense to keep the basics (pens, stapler, a folder for receipts) in the kitchen. "Use a drawer for active stuff, but choose a space other than the kitchen for lower-use items like files or craft supplies," says Tokos. 
Commit to Clear Space
While older kids tend to study in their rooms, younger teens often like to work in the kitchen. So open up an area on your island or table for them to spread out. "Keep the space clear so there aren't any distractions," says Pregenzer. That also leaves you room to sit and help with those bewildering Common Core math problems. 
Manage Chores
"People think teenagers are too busy to help around the house, but that's not fair or true—if they have time to Snapchat, they have time to help," says Tokos. Jen Jones, of the popular lifestyle blog iHeart Organizing, keeps a chore list in an acrylic sign holder inside her pantry. It includes daily tasks as well as less-frequent ones, with a schedule for each. And don't let the kids ghost you—if they're out of sight, you're out of mind.
Turn on the Tunes
Play music when the kids get home. Pregenzer finds her kids are less likely to turn on the TV and more likely to hang together when there's already background noise. Ask your teens to DJ on alternate nights, or even set up themed playlists or stations (if the '80s are on, it must be #TBT).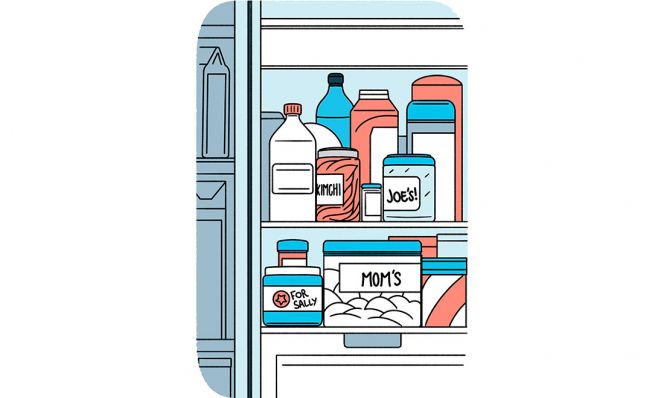 Illustration by Janne Iivonen
Empower Their Inner Chef
Teach your teens to make these meals so they don't starve (oh, the drama!) if you're held up at work. 
One-Pot Mac and Cheese
Combine 1 can evaporated milk, 1/2 cup water, 1 cup elbow macaroni, 1 tbsp butter and 1/4 tsp salt in a medium saucepan. Heat until liquid is absorbed, stirring often, 8 min. Stir in 3 slices American cheese, torn into small pieces, and 2 tbsp cream cheese. Season with pepper. Or, if they're pretty good cooks, let them any of these 22 fantastic mac and cheese recipes.
Breakfast Burritos for Dinner
Whisk 2 eggs with 2 tbsp water and ⅛ tsp salt. Cook 2 min in a nonstick skillet, or microwave for 1 min. Transfer to a large flour tortilla and top with a spoonful of salsa and a dollop of sour cream. Roll up to enclose filling. RELATED: Our Cheesiest, Tastiest Burrito Recipes of All Time
Quesadillas
Shredded cheddar + canned black beans + tortillas. These come together quickly in the microwave, or try this method from Erica, in Tulsa, OK: "My kids make quesadillas using the flat sides of our reversible waffle maker." Other combos: deli ham + Swiss cheese or, for the GF teen, rotisserie chicken + pepper Jack cheese + corn tortillas. ALSO SEE: Our Favorite Easy Quesadillas Ever
Support Healthy Snacking
Put the healthiest foods in the prime real estate so your kids grab them first. Three easy spots: 
RELATED: Dietitian-Approved Healthy Store-Bought Snacks
Waist-level pantry shelves. If you've got open shelving, use clear bins to display cereal bars or pre-packaged nuts for them to grab. If you have junk food, stash it in opaque bins higher up. "If my kids see a bag of chips, they'll eat the whole thing in one sitting!" says Jones. 
Fruit baskets. Washed whole fruit sitting on a table or hanging near the countertop looks pretty and encourages healthy eating.
A refrigerator drawer. "I'll pre-pack fruits and veggies like celery, carrots and grapes into reusable snack bags," says Jones. She keeps these—plus other lunch-friendly items like sandwiches, yogurt and water bottles—in a single drawer in her fridge so the kids know where to find them.
Have a Backup Plan 
For teens, "cooking" can mean heating up packaged food. Here's what's in the freezers and/or cupboards of some moms we know:
"Pork buns and potstickers are popular. We've had to ban a number of individually wrapped snacks due to an inability to clean up after oneself (insert eyeroll here)."
—Julie, Livermore, CA
"My kids like to make ramen noodles. Don't judge!"
—Angi, Virginia Beach, VA
"My boys eat frozen flautas from Costco—but, hey, at least they're organic!"
—Krista, Los Angeles, CA
Rearrange the Cabinets
Take a hard look at your storage. Is it intuitive? "Anything that takes extra steps—even if it's just walking a little farther to put away a dish—isn't going to get done right away," says Jones. Arrange your kitchen work triangle to keep things close to where you need them: oils near the stovetop, placemats near the table and kitchen towels near the sink. Commonly used items should be within arm's reach; less frequently used ones can go in higher cabinets. 
Start Fresh(ish)
Give the kitchen one last once-over before bed. Do a quick walk-through and wipe down the counters and put any abandoned glasses in the sink. You're not aiming for spotless—just clean enough for tomorrow's rush. "Starting your day with a fresh house makes your mornings smoother," says Hagmeyer. And that's all you really need from the heart of your home.