Cleaning an organizing a linen closet is no easy feat. It can easily become the "junk" closet where everything that doesn't have a home ends up. I enlisted Jamie Hord of Horderly NYC to organize my linen closet and I was thrilled with the results. See the amazing  after photos below and learn Hord's step-by-step organization process. 
Step 1: Remove everything and sort through. Toss or donate anything you no longer need or use.
Step 2: Strategize and choose the exact categories that you want the closet to contain. In my case, we decided on linens (towels, sheets), paper goods (toilet paper, paper towels, tissues), cleaning products (dish, laundry, bathroom, etc.), and travel bags (tote bags, beach bags, suitcases).
Step 3: Hang as much you can to prevent clutter on the floor. In my closet, we have a hanging bar not needed for clothes so we hung all small totes and travel bags on hangers for easy access. Hord also suggests using hooks to hang cleaning equipment, like brooms, mops, swiffers and more, which we did on the back of the doors.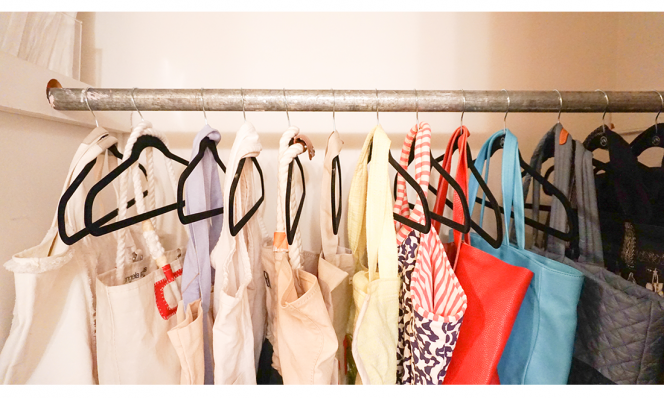 Step 4: Group any luggage that you want to store and keep together on one side of the closet.
Related: Tips for Organizing Your Coat Closet
Step 5: Separate and organize cleaning supplies according to category. Hord suggest using transparent containers to keep cleaning products contained, sorted, and labeled.
Step 6: Edit sheets and towels—don't be afraid to toss old ones that you never use!— and fold towels to where all folds are hidden to give a beautiful "hotel" look and to maximize the shelf space.
Step 7: Label the shelves and plastic bins according to category. This will help you keep them organized as time goes on.
Voila! Your most organized linen closet ever. If it starts to get a little messy, come back to these easy tips for a refresh.
Also see: How to Create the Most Organized (and Pretty) Closet Ever!
Meet our expert
Jamie Hord is a professional organizer based in New York City. Jamie can help you declutter, maximize your space, and design systems that work best for you and that you will be able to function in and maintain. She hopes to help enhance clients lives and show the benefits a more organized way of living can bring!