Joint Effort
Make sure your kids are part of setting up their desk space. "Getting them involved in choosing supplies and decorating allows them to be creative," says Amanda Titchenal of Organize with Amanda. "Plus it gives a sense of ownership, which fuels the drive to use and maintain their work area."
Schoolhouse Rock
Sometimes a too-quiet space can be as distracting as a loud one. Listening to a specific type of music can really help kids focus, says Kate Varness of Green Light Organizing. Search "alpha wave study music" on YouTube for free options.
Parent Company
Younger kids might need an adult to be their anchor while doing homework. "It's called body doubling," says Leslie Josel, founder and academic/life coach at Order Out of Chaos. "Having you in the kitchen while they're working at the table keeps them on task. Working solo comes later."
Paper Trail
"Consistency is key when it comes to tackling school papers. Carve out five minutes each night to go through your child's folder together," says Varness. "Jot events on your master calendar. If anything requires a signature, sign and put it right back in the folder. Anything you want to save, place in a shallow container. When it's full, that's your cue to go through it again, keeping only the truly special papers, projects and awards."
Room to Grow
Ergonomics is just as important for kids as it is for adults. Being hunched over uncomfortably is a huge distraction. "Invest in adjustable chairs and desks. Ikea, The Land of Nod and Pottery Barn Kids all have great-looking options that can be raised or have an additional set of legs," says Titchenal. "They're a solid investment."
Ready, Set, Study
Kids (and adults!) often have difficulty truly estimating how long certain tasks will take. "Using a timer or an analog clock helps your child see time passing. Let them guess how long a worksheet will take to complete, then set a timer to see if they're right. After a while they'll start having a better sense of how long typical assignments can take, which will help them plan their homework routine accordingly," says Varness. Parents, this tip can help you manage your to-do list as well.
Hang in There
Is your kid a creative type? Open shelving will likely appeal—especially if they tend to have an out of sight, out of mind mentality. A pegboard lets them see what they have, and it can be switched up as they get older.
Divide and Conquer
Desk drawers can easily become a dumping ground. "Use modular dividers in each drawer to create your own system," says Titchenal. "That way everything has a spot and you can add on as your kid needs more or different supplies. A mini filing box and magazine racks work best for books, workbooks and papers."
Happy Place
Ideally, your kid's desk space should feel comfortable—someplace they want to be. Paint the wall a fun color. Arrange mementos on a bulletin board. Lay a simple piece of Plexiglas on top of the desk so they can easily slip in photos, artwork and schedules.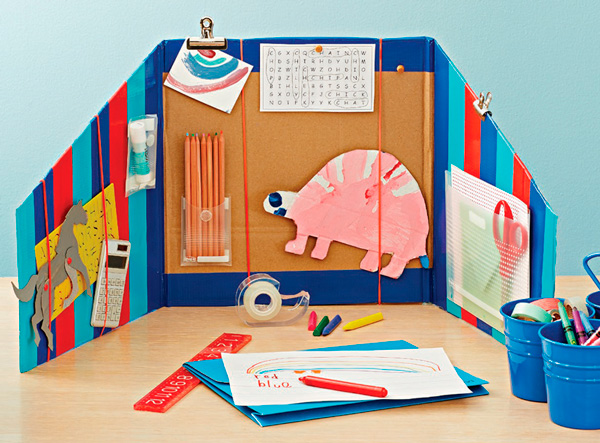 Private Practice
If your child typically does homework in a high-traffic area, make a privacy shield with a three-sided presentation board. "This keeps them focused while still being in the household mix. They can decorate it with markers, stickers, Post-it notes, even stick-on pockets for organizing papers," says Josel. "When they're done, it folds up easily to stash out of the way."
Photos, from top: James Carriere, Photos: Edmund Barr (2), Steph Bond-Hutkin, David A. Land, Trevor Dixon.