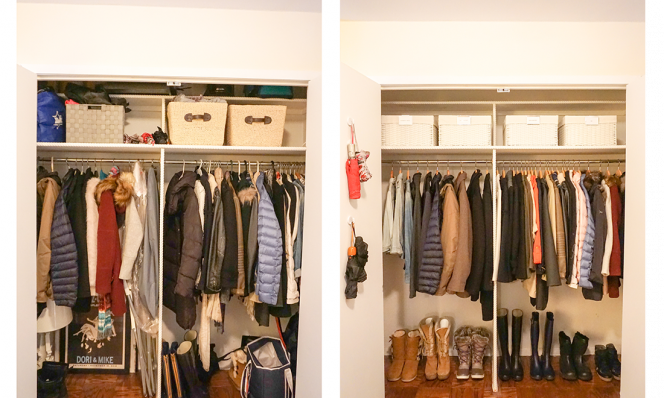 Photo by Jamie Hord of Horderly NYC
Hord always starts her cleaning process by detoxing the closet: taking everything out, sorting through and deciding what to keep, toss and donate. She then separates and groups like things together, i.e. winter coats vs. lightweight jackets. She also will separate by person if there are multiple people sharing the closet.
After grouping the appropriate outerwear together, Hord suggests swapping out mismatched hangers for sturdy wooden hangers and spacing them evenly apart. It's important to keep as little as you can on the floor or else things start to pile up, creating a cluttered mess all over again, says Hord.
She is a big fan of utilizing command hooks on the backs of closet doors to hang umbrellas, bags and anything else that could end up on the ground. She suggest lining up boots on the floor, and adding boot shapers to stand up any boots that don't stand up on their own. High, hard-to-reach shelves should only be used for anything you would use one a year or less.
Hord swears by the "one in, one out" method, meaning whenever you bring something new in, consider letting something old go. This will never let your closet fill up, and you'll always be able to shop your closet and see what you have!
Meet our Expert
Jamie Hord is a professional organizer based in New York City. Jamie can help you declutter, maximize your space, and design systems that work best for you and that you will be able to function in and maintain. She hopes to help enhance clients lives and show the benefits a more organized way of living can bring!