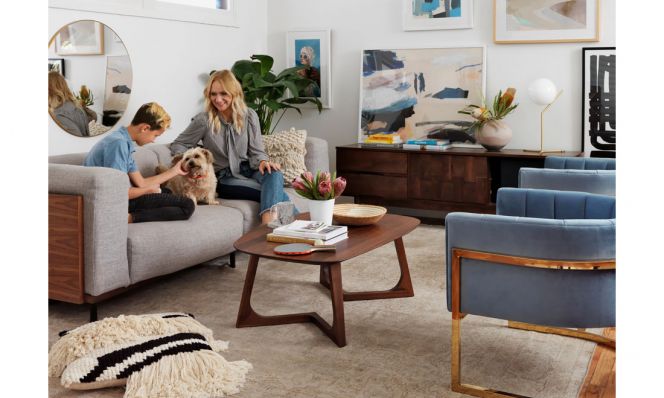 When interior stylist Kirsten Grove met a certain '50s-era midcentury ranch in northwest Boise, ID, it was a love connection. In her heart, Kirsten knew from the get-go that she and her husband Shane, a minister, could transform it into a comfortable space where they and their kids, Ethan, 13, and Eden, 12, would feel completely at home.  
Most of the house was still in its original condition when the Grove foursome took up residence in May 2016. The alley-style kitchen and master bath required major renovations, but the rest of the reboot was primarily cosmetic, including lots of paint and some new flooring. In terms of the overall design, which is always evolving, Kirsten freely admits she's her own toughest client. "I change my mind constantly!" 
The woman behind the design 
Kirsten started blogging about home design and aesthetics at Simply Grove about 11 years ago. But her creative empire has been 30+ years in the making—beginning when, at age 9, she was given free rein to decorate her bedroom and went with a major mashup of rainbows, polka dots and stripes. Little did she know she would eventually offer home design consultations; collaborate with major brands, including West Elm, Macy's, Sherwin-Williams, Overstock and Lowe's; write a book, Simply Styling ; and open an e-shop, SimplyGroveShop.com. For more of her unique home inspo, visit simplygrove.com.
First, the living room
"When we moved into this house, I needed at least one room completely finished as quickly as possible for my sanity," admits Kirsten. "So we started on the living room." Out went dark pink drapes and three crystal chandeliers installed by the previous owner. In came fresh white paint all over, including the fireplace, to create a clean slate. The sofa is from Modani and the blue chairs are from Overstock.
A cozy nook
Kirsten quickly zeroed in on an unused area off the kitchen as an ideal spot for a comfy, kid-friendly nook. The Herman Miller table and Bertoia chairs were bought at a favorite local spot, Boise Vintage. As she had envisioned, when Eden and Ethan get home from school, they almost always gravitate here for a snack and then tackle homework.
Kirsten wanted to keep this nook "simple and clean." 
The dining room
"Our dining room is a collection of some of my favorite pieces," says Kirsten. The Room & Board table, paired with Overstock chairs, comfortably seats family plus friends. Craving texture, she brought in a Moroccan shag rug. As for that fixture, it's fantastic—but nothing beats sunshine streaming in through a skylight that's always been there.
Talk about a garage sale score—Kirsten came upon this stunning vintage sideboard for just $25.
The kitchen
Kirsten's recipe for this hardworking room: equal parts function and style. Painting the cabinets a dark blue-gray created a striking contrast against the white walls. For added magic (Kirsten's words), they installed two beautiful brass sconces from Schoolhouse Electric.
Properly waxed, black soapstone counters resemble marble. Kirsten pronounces the look "less kitcheny."
The patio
For the Grove crew, the patio is hangout central all summer long. "We live out here, and it's just the best for eating and lounging around," says Kirsten. This was the first exterior space they painted after moving in. The to-die-for outdoor kitchen is original to the house.
"Buying a midcentury ranch felt a little nerve-racking," says Kirsten. "We didn't want to mess it up, but at the same time, we wanted to make it our home. Some midcentury moderns feel stuffy, not up-to-date. I didn't want that." 
A dreamy bedroom
Eden's room was hardly a joint effort. "My daughter couldn't care less about design," says Kirsten with a laugh. "She lets me do whatever I want in there." As a way to bring in some soft color, Kirsten chose floral wallpaper from WallsNeedLove. Eden does share her mom's passion for artwork, so she happily helped curate the eclectic display on the wall behind her bed, which is from the Novogratz collection on walmart.com.
"Because she's 12, we've  started to adult her room a little," says Kirsten.
The master bedroom
Before it was transformed, the master bedroom had yellow walls and a peach ceiling. Plenty of white paint took care of that problem. Kirsten is all about the modern wood furniture from Rove Concepts. Linen sheets and plush pillows give the bed an ultra-comfy "settle-in" vibe. She scored the eye-catching fringed tapestry at a local garage sale.
"I moved with my mom to Boise from Seattle right out of high school," says Kirsten. "At first, I wasn't quite sure what I thought. But the longer I live here, the more I love it. The food-and-coffee thing is legit. The art and theater scene is growing at a rapid rate. It feels like people are moving here from all over. I think it's because the quality of life is fantastic."
Their family backstory
"Both of our kiddos were adopted, which is a huge part of our lives," says Kirsten. "We love adoption, we love talking about adoption and we love to advocate for adoption." Ethan was placed with the family through an agency, while Eden came through a friend of a friend. "Both of my children have very different stories of how they came to be Groves. Both of them are my miracles! I truly wish everyone could experience adoption, whether by adopting themselves or by walking with someone who is adopting. It's a gift from God for both the parents and the children."