Jimmy's Favorite Garlic Bread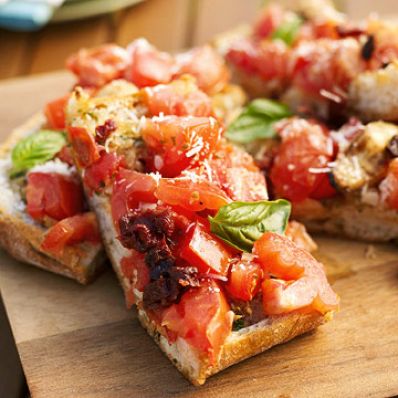 This popular side-dish recipe is seasoned with a chunky tomato, basil, and garlic salsa. If you wish, slice into smaller pieces and serve as an appetizer.
Ingredients
Directions
1

of

1

Heat oven to 350 degrees . Slice tops off of garlic bulbs and drizzle each with 1/2 teaspoon olive oil. Wrap in foil and bake at 350 degrees for 1 hour.
While garlic is roasting, prepare Garlic Butter:
1

of

1

In a medium-size bowl, combine butter, Parmesan, crushed garlic, Italian seasoning, parsley and red pepper flakes. Refrigerate.
Prepare Tomato Basil Salsa:
1

of

3

In a medium-size saute pan over medium heat combine oil and garlic. Cook until lightly browned, about 2 minutes. Add tomatoes and heat through. Stir in basil, salt and pepper and remove from heat.

2

of

3

Remove roasted garlic from oven, unwrap foil and cool. Once cooled, squeeze cloves from papery skin. Set aside.

3

of

3

Spread 1/2 cup garlic butter over bread (reserve remaining 1/2 cup for another use). Bake at 350 degrees for 20 minutes, until browned. Top with tomato salsa, roasted garlic, sun-dried tomatoes and Parmesan cheese. Slice into pieces and serve.
Nutrition Information for Jimmy's Favorite Garlic Bread
Servings Per Recipe: 8
Per Serving: