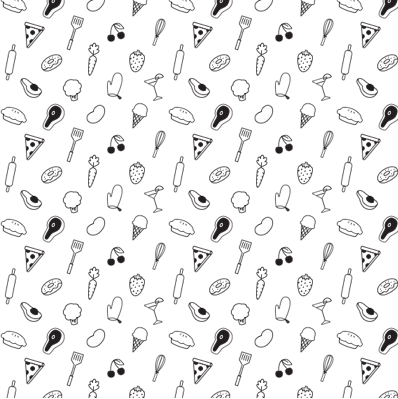 Ingredients
Directions
1

of

6

Heat oven to 350 degrees F. Coat three 8 x 2-inch round straight-sided layer cake pans with nonstick vegetable-oil cooking spray. Line bottoms with waxed paper; coat paper with spray.

2

of

6

Whisk together flour, baking powder, salt and nutmeg in a large bowl.

3

of

6

Beat butter in large bowl on medium speed until smooth and creamy, about 1 minute. Add sugar and beat on medium-high speed until light and fluffy, about 2 minutes. Add eggs, one at a time, beating after each addition. Add vanilla and beat for 1 minute. On low speed, beat in flour mixture; beat for 1 minute.

4

of

6

Spoon half of batter into pastry bag with 1/2-inch opening. Tint remaining batter with violet food coloring. Spoon into another pastry bag with 1/2-inch opening.

5

of

6

In 2 of prepared pans, pipe yellow cake batter around outer edge of pans to make a circle. Pipe violet batter along inner edge of yellow batter to make circle in both pans. Continue to pipe alternating rows of batter until 2 pans are filled. In third pan, pipe alternating rows of batter, starting with violet batter.

6

of

6

Bake in 350 degrees F oven for 20 minutes or until wooden pick inserted in centers of cakes comes out clean. Cool cakes in pans on wire racks for 10 minutes. Remove cakes from pans. Frost and decorate as follows.
Glaze:
1

of

1

While cake is cooling, melt together apricot preserves and water in small saucepan. Strain out any solids. Turn cakes out of pans; remove waxed paper. While still warm, place one cake layer with yellow outer edge on cake plate. Brush glaze over top. Place cake layer with violet outer edge on top. Brush with glaze. Place remaining cake layer on top. You must stack layers in proper order to achieve checkerboard effect.
Leaves and Flowers:
1

of

1

Tint 1/4 cup Royal Icing yellow for centers of flowers. Tint 1/4 cup icing green for leaves. Tint 1 cup icing violet. Leave remaining icing white. Place plastic wrap directly on the surface of each icing until ready to use. Line baking sheet with waxed paper. Spoon green icing into pastry bag fitted with #352 V-cut leaf tip. Pipe about 20 leaves onto paper. Spoon white icing in pastry bag fitted with large #9 star tip. Then pipe about 25 white flowers onto waxed paper. Spoon violet icing into pastry bag fitted with #107 drop flower tip with wire. Pipe about 17 violet flowers onto waxed paper. Dip a finger into cornstarch and gently press into center of flowers. Using bag fitted with small round tip, pipe small yellow dot in center of each of the the white flowers and violet flowers. Let the flowers and the leaves dry completely.
Assemble:
1

of

1

Remove about 1 cup Buttercream Frosting to pastry bag fitted with coupler and #48 basket-weave tip. Cover the tip until ready to use. Tint remaining Buttercream Frosting yellow. Cover top and sides of stacked cake with frosting. Make frosting as smooth as possible. Make marks around bottom edge of cake, 1-1/2 inches apart. Pipe vertical lines of white frosting up side of cake at each mark. Pipe line around base of cake. Attach flowers and leaves in decorative fashion around edge of cake, using small dot of icing for glue. Arrange flowers on cake stand around base of cake.
Nutrition Information for Checkerboard Cake
Servings Per Recipe: 16
Per Serving:
© Copyright Meredith Corporation. All Rights Reserved.
Printed from FamilyCircle.com 07/20/2019